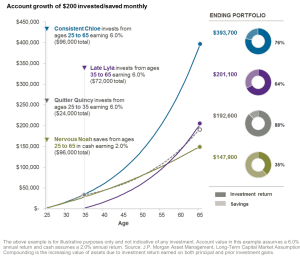 HOW EARLY AND FOR HOW LONG?
Make saving for retirement a priority by investing early and often. This graph illustrates the savings and investing behavior of four people who start saving the same annual amount at different times in their lives, for different durations and with different investment choices.
Be Consistent! Start Early! Be A Disciplined Investor!
The power of compounding is key to success! You have to participate in the markets to be rewarded! Investing in tax sheltered vehicles can lead to even greater wealth. Stay tuned for discussions on savings rates and Qualified v. Non-Qualified. Today's take away – start investing NOW and determine a level of risk that is acceptable to you!