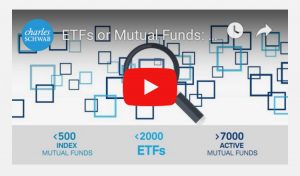 Our partners at Charles Schwab produced this short video to help explain the difference between Exchange Traded Funds (ETF's) and Mutual Funds.    It's common amongst investors to have little understanding of the difference between the two. There are times when it makes sense to choose one over the other. Timing, taxes and expenses are all factors.
Schwab now has over 2000 ETF's and Mutual Funds that can be purchased with no commission or transaction cost.   We help our clients navigate this broad universe of investment options, to build low cost portfolios designed to meet the client's future goals. We can help you sift through the details when it comes time to invest your money.
Click on PLAY above to check out this SHORT, 3 minute clip, and call us if need help with your investment plan!