Don't try to outguess the market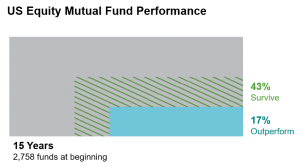 The market's pricing power works against mutual fund managers who try to outsmart other participants through stock picking or market timing. As evidence, only 17% of US equity mutual funds have survived and outperformed their benchmarks over the past 15 years. Even so, traditional investment approaches strive to beat the market by taking advantage of pricing "mistakes" and attempting to predict the future. Too often, these approaches prove costly and futile. Predictions go awry and managers may hold the wrong securities at the wrong time, missing the strong returns that markets can provide. Meanwhile, capital-based economies thrive—not because markets fail but because they succeed.
What if the typical investor decided not to bet their life savings on tips and hunches? We know from our first piece in this series, that trying to guess the most underpriced stocks is betting against 98.6 Million other investors each day; and that equity prices are fair and efficient. We also know that markets throughout the world have a history of rewarding investors for supplied capital. Instead of guessing, we should lean on academics and science to guide the way to designing a portfolio that delivers what the markets offer. A financial plan based on the science of investing frees you to focus on what matters – diversification, lowering costs, and discipline.
Many of the greatest advancements in Finance have come from academia and research. Academic research has identified the sources of investment returns historically, and applying academic insights to practical strategies can help investors benefit from what the capital markets have to offer.
There is a different way to invest. We should think about why we invest, what we know from research, and apply proven scientific methods of expected returns to our portfolio design. We focus on gaining insights about markets and returns from academic research, reducing expenses, rebalancing, and taking on an acceptable amount of risk based on scientific dimensions of expected returns. Let markets work for you by taking advantage of sensible, well-diversified, low-cost portfolios backed by decades of research and practical experience.
Park + Elm Investment Advisers, LLC is a Registered Investment Advisor offering Investment Advisory Services. The custodian for our client's funds is The Charles Schwab Corporation. Park + Elm Investment Advisers, LLC is not affiliated with The Charles Schwab Corporation. We are registered with the Indiana Secretary of State Securities Division and additional information about us can be found on our ADV at http://www.adviserinfo.sec.gov/. The information in the brochure has not been approved, verified, or otherwise endorsed by the SEC or by any state securities authority. The brochure is for informational purposes only. It is not to be construed as tax, legal, or investment advice.